Return to the Advanced Investment Technologies Home Page
Chaos & Nonlinear Dynamics in the Financial Markets: Theory, Evidence, and Applications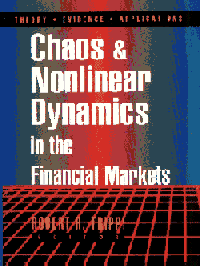 500 pp., 1995. This authoritative guide covers a comprehensive range of issues associated with chaos theory. It includes sections on theoretical foundations, evidence of chaos in the stock market, evidence of chaos in commodities markets, and evidence of chaos in money markets, plus a section on advanced methodological issues. You'll also find included Chaos Explorer, a complimentary Windows software package that graphically illustrates the behavior of a number of the chaotic processes that are referenced throughout the book.
As the most thorough and up-to-date resource on this exciting topic, Chaos & Nonlinear Dynamics in the Financial Markets provides an in-depth examination of:
The "hows," "whats," and "whys" of chaotic systems and the principles of nonlinear dynamics

Ways of distinguishing whether observed price movements or asset returns are generated by a purely random process or by a process which includes a chaotic deterministic component.

The practical application of chaos theory to the behavior of prices of stocks, bonds, futures contracts, options, and other financial instruments
Chaos & Nonlinear Dynamics in the Financial Markets is filled with thought-provoking insights that will prove valuable to financial analysts, economists, statisticians, portfolio managers, and anyone interested in understanding or forecasting the movements of market prices using state-of-the-art techniques.
---
"From financial markets to Jurassic Park, chaos theory is becoming an increasingly powerful tool for examining the way in which complex systems interact. Trippi has assembled a collection of some of the best and most current research on the subject of how prices in financial, currency and commodity markets are governed by the chaos phenomenon. Anyone doing research on the use of chaos theory to explain the behavior of prices would be well advised to read this book."
Don M. Chance, Professor of Finance, Center for the Study of Futures and Options Markets, Virginia Polytechnic Institute and State University
---
"The best-yet reference book on applications of chaos theory to investments . . . An impressive collection of information squarely addressing this fascinating and important subject. Authoritative and comprehensive, it contains an extraordinary number of security market applications. For practitioners seeking a better understanding of financial market behavior, this book is a must."
Alex Kane, Professor of Finance, University of California, San Diego
Submit Book Order Using the Printable/Faxable or Instant Online Order Form
---
---
This page has been accessed
times within the last 30 days.

Best viewed with Netscape Navigator

or Microsoft Internet Explorer 3.0