For-to-Win Consulting Services
Windows Development and Migration Experts
A Division of Sigma Research Associates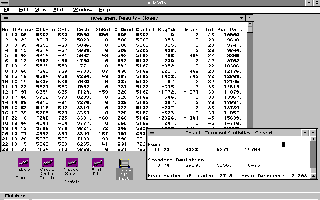 We make Windows software happen! No late deliveries! No sloppy management! We deliver absolutely top quality commercial-grade software to meet your exact needs! Specializing in Fortran, C++, and Visual Basic development, featuring
rigorous full-cycle project management
competitive bids
extensive pre-project analysis
Why waste your company's time and money rewriting mainframe/mini, Unix workstation, or DOS/console legacy Fortran programs in a language unsuitable for your applications, and ending up with buggy code, just to run them under MS Windows? We can take your existing source code and in short order create native Windows 64-bit executables that are easy to maintain, execute lightning-fast, and continue to take advantage of Fortran's many inherent advantages for numerically intensive applications. Our Fortran-based platform migration projects deliver full compliance with military and ISO 21st century requirements.
We can protect and enhance the value of your Fortran software investment by:
retaining your original Fortran code core with a minimum of modification
bringing your programs into full compliance with the most stringent commercial and military standards
incorporating multiple windows for inputs, outputs, and other data displays
creating graphical windows to represent numeric data in a variety of multidimensional visual displays
delivering efficient, high-level optimized code for Intel processors with Advanced Vector Extension features.
development of free-standing executables or DLLs callable from programs in other languages
compiling and linking to your external custom Fortran or C/C++ libraries
using the most efficient rapid development tools available plus Windows API function calls written entirely in Fortran, resulting in source code augmentations that are easily maintained by any experienced Fortran programmer using Microsoft Visual Studio
developing cross-language applications combining the strongest capabilities of Fortran, C++, and/or Visual Basic
constructing integrated custom help files for each migrated program or module
We can work from virtually any existing source code for business, financial, and scientific applications, including those originally written for:
HP UX, Sun Solaris, or other Unix
DEC VAX Fortran
Microsoft and Compaq Fortran
IBM Fortran
Linux Fortran
Our qualifications include more than thirty years of mission-critical software development experience with a wide variety of operating systems, languages, and user interfaces. We are tops in the business, stand behind our work, and will always be here if you need us. We do not use contract or other transiently employed programmers. You will deal directly with the principals.
---
WE ARE EXPERTS AT IDENTIFYING AND CORRECTING UNRESOLVED LEGACY-RELATED PROBLEMS IN FORTRAN CODE
To download a sample financial engineering demo program written entirely in Fortran, click here.
For additional information, please e-mail your inquiry to Robert R. Trippi, Principal Scientist or Duane DeSieno, Principal Scientist, at rtrippi or ddesieno
or telephone:

(858) 459-2743, (858) 456-3962 (fax)
---
Copyright © R. R. Trippi